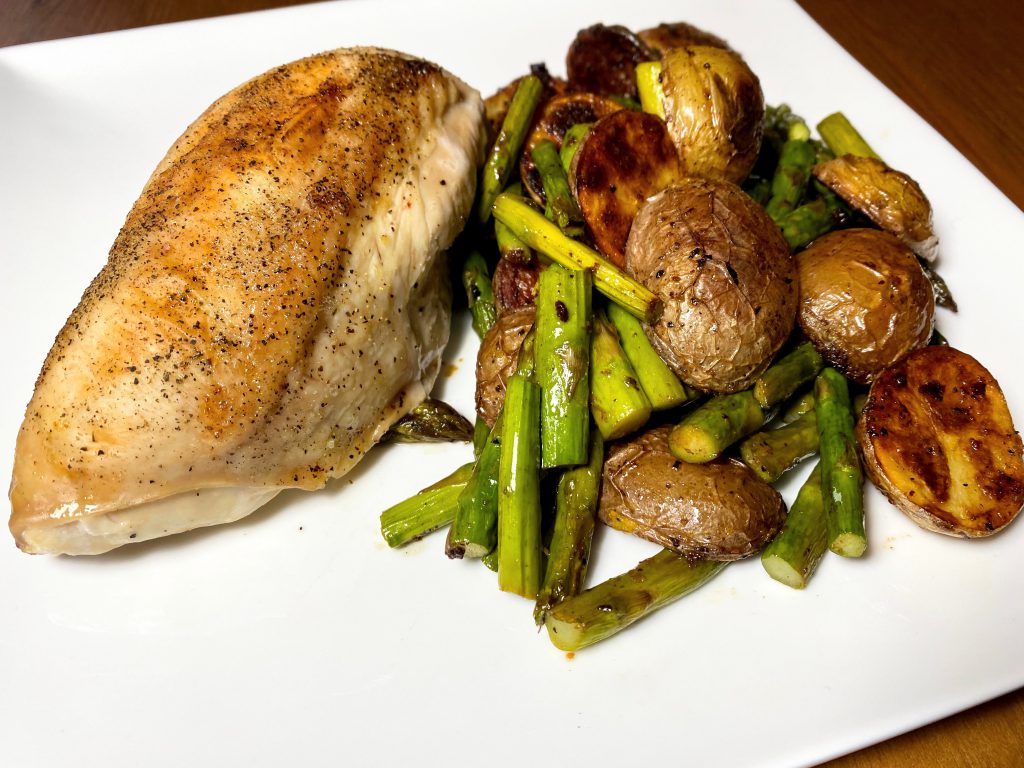 It may not be a "one-pot" meal, but it's close. You'll need two pans and about an hour. It's portioned as a dinner for two, though it's easily scalable with no changes in timing required.
Time: 60 minutes
Serves: 2
Ingredients:
400g baby potatoes – halved
20g cold-pressed avocado oil (or other cold-pressed neutral-flavoured oil)
8g salt
1g fresh ground black pepper
4 cloves garlic – finely chopped or grated
2 bone-in skin-on chicken breasts
15g fresh lemon juice
400g asparagus – cut into 3cm pieces
Zest of half a lemon
Preparation:

Preheat your oven to 220C.
In a roasting pan, toss the potatoes with fifteen grams of the avocado oil, half of the salt, half of the pepper, and the garlic. Place the pan in the oven for fifteen minutes, stirring once during that time.
In a separate roasting pan, evenly sprinkle both sides of the chicken breasts with the lemon juice and remaining salt and pepper. Place the pan in the oven for twenty minutes.
Carefully add the asparagus to the potatoes, drizzle with the remaining oil, toss, and return to the oven for fifteen minutes.
Remove both pans from the oven. Sprinkle the asparagus and potatoes with the lemon zest. Confirm the internal temperature of the chicken has reached 74C.
Serve immediately.