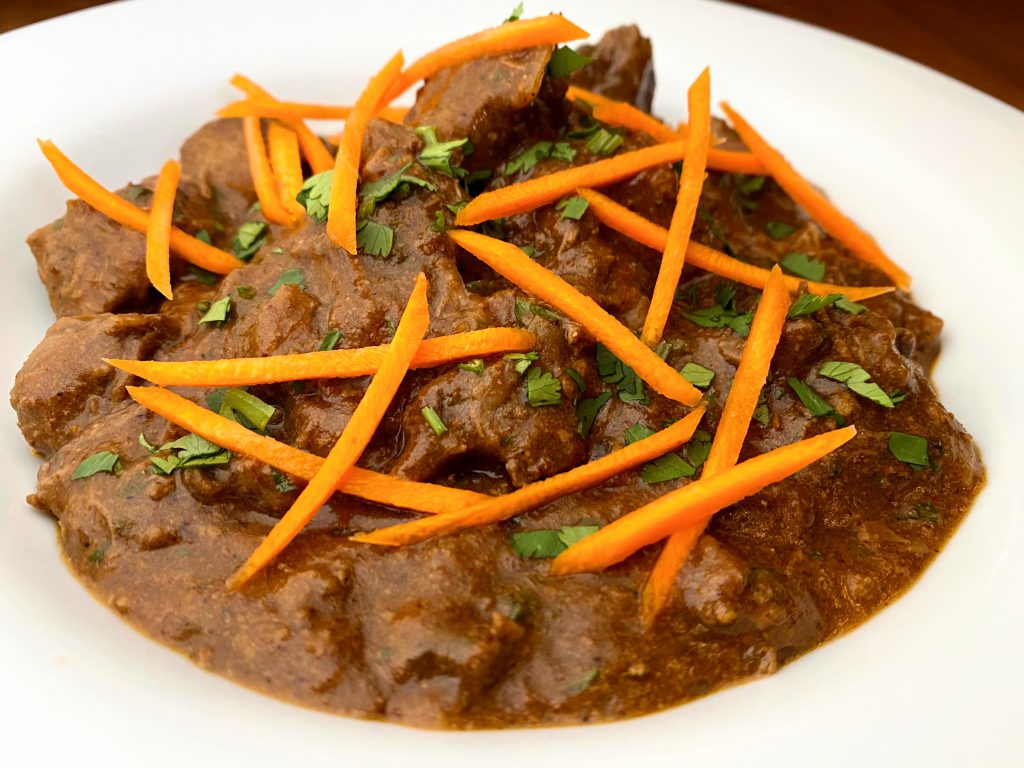 Here we go again, committing sacrilege. A traditional curry wouldn't be thickened with corn starch but, to utilize the magic. of the pressure cooker, we need some liquid. That means we need to thicken the liquid when the cooking is done. It may be wrong, yet it tastes oh so right! The julienned carrots aren't in the recipe, though they make for a pretty picture.
Time: 60 minutes (plus marinading time)
Serves: 6
Ingredients:
250g Icelandic or Greek yogurt
10g fresh ginger – grated
18g salt
2g cayenne pepper (optional)
4 cloves garlic – finely chopped or grated
1.2kg cubed stewing beef
30g cold-pressed avocado oil (or other cold-pressed neutral-flavoured oil)
200g onion – diced
12g ground cumin
12g ground coriander
12g garam masala
12g chili powder
60g tomato paste
30g lemon juice
125g water
50g cold water
50g corn starch
1 bunch coriander – chopped
Preparation:
In a suitable bowl, stir together the yogurt, ginger, eight grams of the salt, cayenne pepper, and garlic. Add the beef, stirring to coat evenly. Cover and refrigerate for at least a few hours or overnight.
Place your pressure-cooking vessel on medium-high heat and add the oil.
When the oil is hot, add the onions, stirring occasionally for five minutes.
Stir in the remaining 10 grams of salt, cumin, coriander, garam masala, and chili powder. Stir often for two minutes.
Add the tomato paste, stirring often for one minute.
Stir in the beef with its marinade, water, and lemon juice.
Seal the pressure cooker and cook at high pressure for thirty minutes, beginning the timer when full pressure is reached.
Safely vent the pressure cooker.
In a small bowl, whisk the starch into the cold water. Add this mixture to the curry and stir on medium-high heat until thickened.
Stir in the cilantro.
Serve immediately or refrigerate and reheat.