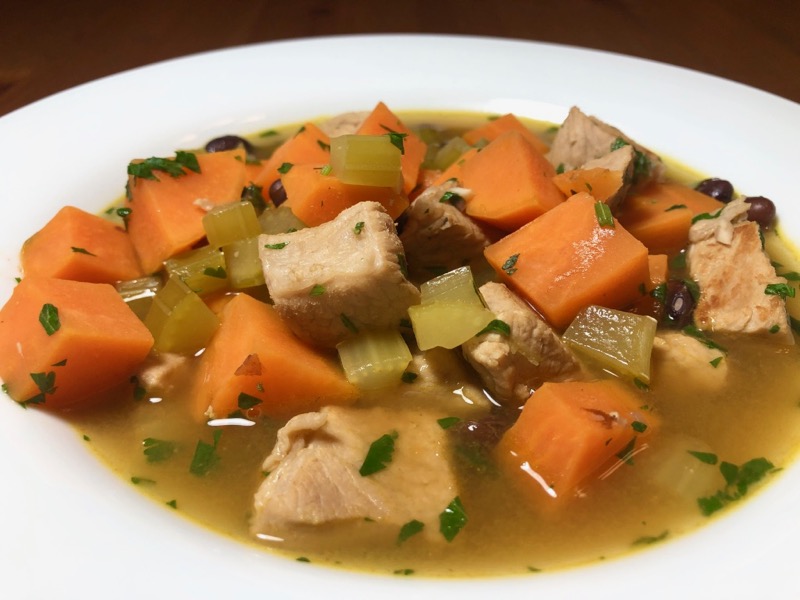 The weather up north here is cool and that makes it a great time for southern flavours. Here, I rebooted the Cuban flavours of Havana Stir into a soup. Get cooking!
Time: 40 minutes
Serves: 4
Ingredients:
20g cold-pressed avocado oil (or coconut oil)
600g yam – peeled and diced
4 sticks celery – diced
5 cloves garlic – chopped
12g salt
10g ground cumin
1g fresh ground black pepper
1g cayenne pepper (optional)
540ml can black beans – rinsed and drained
1 litre vegetable, pork or chicken stock
250ml orange juice
600g pork tenderloin – cubed
30ml lime juice
1 bunch cilantro – chopped

Preparation:
Place a large pot on medium-high heat and add the oil.
When the oil is hot, add the yam, celery, garlic, salt, cumin, pepper and cayenne, stirring occasionally for five minutes.
Add the beans, stock and orange juice. Bring to a boil. Reduce heat to simmer uncovered for fifteen minutes.
Add the pork and return to a simmer for five minutes.
Remove from heat, stir in lime juice and cilantro, then serve immediately.