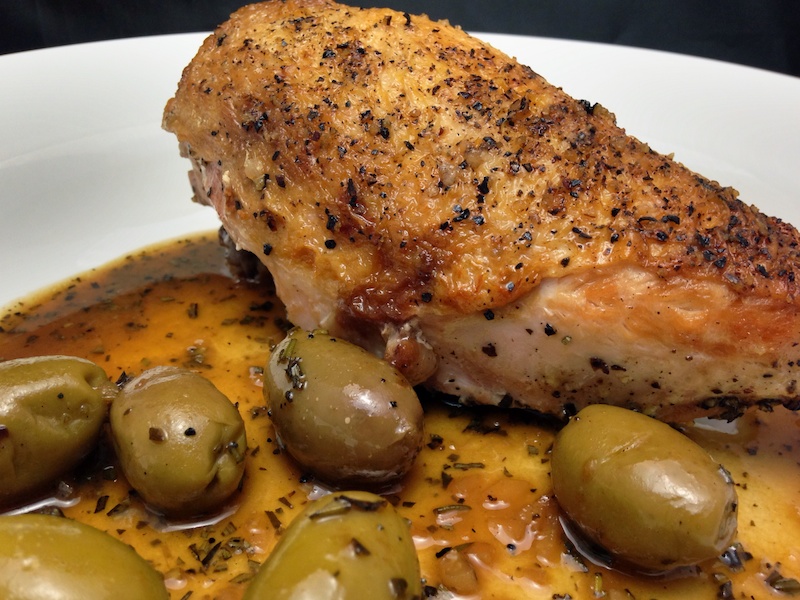 Sometimes, you can really use a drink and other times, you just need a hearty meal. I like to think this one covers both bases, though you'll probably want to supplement it with a side of vodka. If you don't have vermouth, you can use a dry white wine, though to really get that martini flavour, vermouth is where it's at.
Time: 40 minutes
Serves: 2
Ingredients:
1 tablespoon extra-virgin olive oil 2 chicken breasts – bone-in, skin-on ½ teaspoon kosher salt ½ teaspoon fresh ground black pepper ½ cup dry vermouth (or dry white wine) 1 preserved lemon (skin only) – chopped ½ cup whole green olives 1 tablespoon fresh rosemary – chopped  
Preparation:
Place a frying pan on medium heat and add the olive oil.
When the oil is hot, season both sides of the chicken breast with the salt and pepper, then cook for five minutes per side or until the skin is well-browned.
Add the remaining ingredients, reduce the heat to a simmer and cook covered for twenty minutes or until the internal temperature of the chicken reaches 165F.
Plate the chicken with the olives and pan juices.